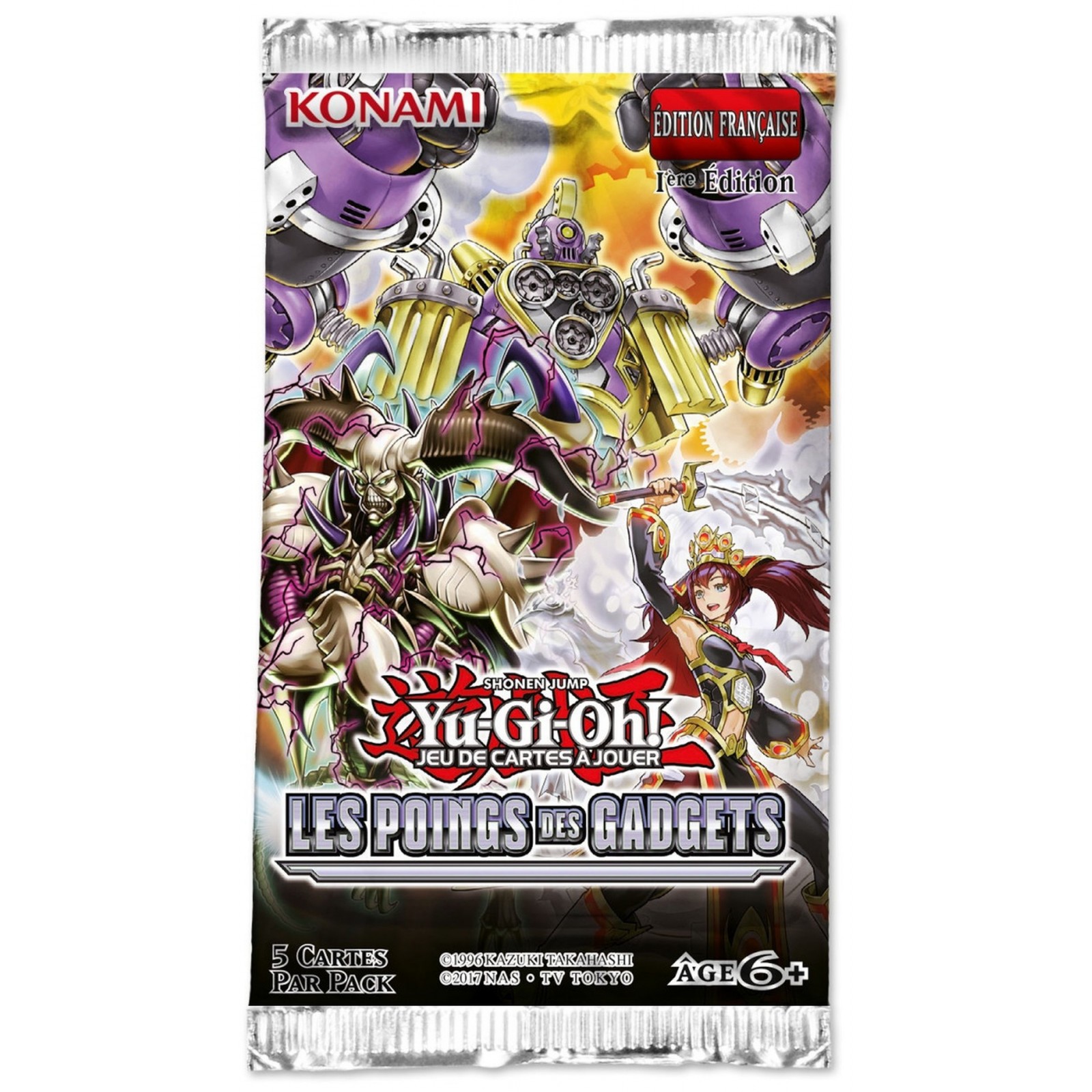  
Yu-Gi-Oh! - Booster - Les Poings des Gadgets - FR
5 Cartes par Pack dont 4 Super Rares et 1 Secrète Rare Minimum
Description
Après 6 longue année d'entrainement, La Confrérie du Poing de Feu revient sur le champ de bataille ! Ces nouveaux monstres ont maitrisé une nouvelle Formation du Feu qui étend grandement les possibilités de la stratégie « Poing de Feu » .
Yu-Gi-Oh! JEU DE CARTES À JOUER Les Poings des Gadgets
introduit 11 nouvelles cartes pour le Deck « Poing de Feu » incluant un Monstre Lien qui vous permet de ne pas payer le coût pour vos effets « Poing de Feu » ou prendre le contrôle des monstres ennemies, un Monstre Rituel qui cherche les Formation Feu et annules les effets de monstre, et bien plus.
Que font les Gadgets quand ils veulent se renforcer ? Ils deviennent les poings euxmêmes d'un nouveau soldat Machine terrifiant ! Utilisez du pouvoir Gadget pour renforcer vos propres monstres, détruire les cartes adverses comme horloge, ou même déchainer un effet du type Force de Miroir tout en restant offensif.
Les Duellistes qui ont obtenu le Microcodeur, Proglion, ou Cynet Codec dans le jeu Legacy of the Duelist : Link Evolution peuvent découvrir plus de 10 nouvelles cartes pour les Decks Cyberse qui fonctionnent ensemble, incluant un nouvelle forme avancé de Proglion ! Vous pourrez également trouver 2 nouveaux monstres « Codeur Bavard », 4 nouveaux visuel alternatif pour le Crâne Invoqué (1 Fusion, 1 Synchro, 1 Xyz, et un Monstre Rituel) et bien plus !
Contenu du set :
• Le set Les Poings des Gadgets du Yu-Gi-Oh! JEU DE CARTES À JOUER contient 60 cartes dont :
40 Cartes Super Rares, 20 Cartes Secrètes Rares